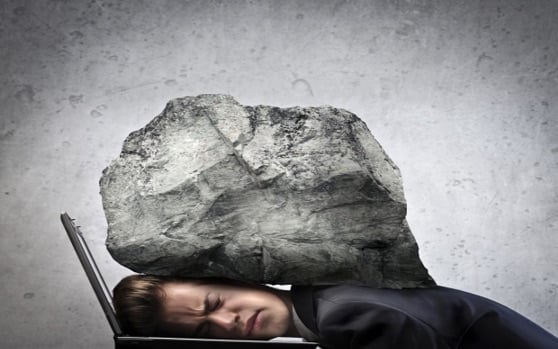 Stress costs businesses $300 billion each year in medical expenses and lost productivity. It's time to start thinking strategically about the impact of root causes of stress in your organization, and what you can do about it.
Stress is the inevitable result of running a profitable enterprise. Deadlines approaching, inboxes overflowing, to-do lists mounting: pressure comes from all angles. And your team members bear the brunt of it.
It would be impossible to eliminate stress altogether. But you can drastically improve productivity and employee engagement if you identify the anxiety your team experiences and work to reduce it.
The first step is to diagnose and address some of the common culprits.
Ensure Realistic Demands. Employees may be concerned with how much control they have over their schedules. What's the work/life balance in your organization? Have you hired the right people for their respective roles, and are those positions designed for success?

Reward Exceptional Effort. Does every member of your team feel appreciated? To encourage high productivity and sustain great work, recognize great work. Incentivize employees who go above and beyond.

Empower Employees.

Your team may consistently produce effective work. But does each person feel like he or she has control over decisions that influence roles and responsibilities? Employees are more passionate when they're actively engaged throughout the process.

Communicate Change.

Once the rumor mill starts spinning, it can be hard to slow down. Effective internal communication involves clear messaging between your organization and your employees. Be sure to keep everyone in the loop if change is imminent

Invest in Management Development.

Any team member with management responsibilities must be able to recognize, understand, and handle individual needs. Employees want to know their supervisor is present, aware, and involved.

Encourage Collaboration.

Your team is working toward the same goal—that's why it's called a "team." Social support from both coworkers and management plays a crucial role in your company's efficiency.

BuildTrust.

Employees who fear losing their jobs don't produce at their highest levels. Establish a foundation of trust and assure your team that job stability is a non-issue. With these fears squashed, your happy employees can focus their efforts on your next project.
We use a proprietary assessment to measure detrimental stress within organizations and develop a roadmap for addressing the problem. Developed by TTI Success Insights, Stress Quotient leverages research on the key causes of workplace stress. After everyone within a workgroup or organization completes the Stress Quotient, results are examined and discussed. Themes emerge, and help distinguish the areas to be addressed. Contact us to learn more about a free assessment and consultation.
You can't eliminate stress completely, but by identifying its contributing factors, you can limit it. When employees and leaders are aware of stress' impact on the workplace, they can work together to create productive solutions.