The SMART Workplace has led in identifying virtual work trends that put team engagement and operations at risk, seeking to isolate and address the increased impact of the pandemic.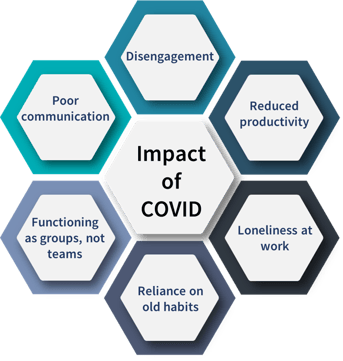 What: The COVID Workforce Impact Study (CWIP)
We are seeking sponsorships to conduct new research on the impact the COVID pandemic and work-from-home team practices have had on individual contributors and leaders. The CWIP will isolate essential virtual leadership behaviors, provide training interventions to develop and confirm sustained behavior changes using evidence-based metrics and participant input.
The research report will include a blueprint for organizations to develop and reinforce cultures that supports the workforce - regardless of where they work.
Why: Our Mission is to Fast-Track High-Performance Virtual Teams
Organizations need to be proactive in addressing the impact the pandemic is having on their workforce, which is why we have prepared the CWIP Study sponsorship opportunity. The study identifies and addresses individual contributor and leader concerns, provides training and intervention support that build the competencies needed to succeed when the network is the workplace.
Audience: Organizations, Divisions, or Units Working Primarily from Home
Research participation is appropriate for any organization that currently has virtual and mobile employees or is expanding their mobile and virtual workforce.
Methodology:
The 6-month process will include: