Discover the LEGO® SERIOUS PLAY® Methodology!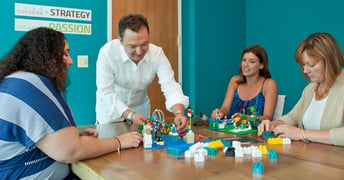 Looking for a new a
pproach to business strategy? Want to improve collaboration within your organization? No matter your goal, our team building workshops utilizing the LEGO® SERIOUS PLAY® materials and methodology can help.
LEGO® SERIOUS PLAY® is a ground-breaking facilitated thinking and problem solving technique designed for use by team and organizations.
thrive workshops are led by one of our trained
LEGO
®
SERIOUS PLAY
® facilitators
. Each participant builds their own three-dimensional model in response to carefully designed questions to serve as a the basis for group discussion, strategic thinking and collaboration.
Enhance innovation and business performance with our effective team building workshops:
Create effective dialogue within your organization
Make meetings more efficient and productive for everyone
Harness the Power of Play for your organization! Download our eBook to learn more.