Become a Collaboration Catalyst for Your Business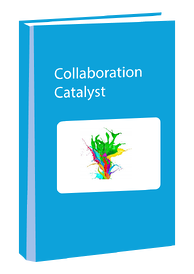 Discover how social-business tools can super-charge your organization
Your team can be faster, leaner, and more innovative. We can show you how. We help teams and organizations select and deploy modern collaborative business practices (such as the use of blogs, wiki's, team rooms, social networking, and more) that are right for them. Backed up with proven processes, we'll work with you to ensure these new tools are understood, used and make an impact!

How Do We Accomplish This?
Our breakthrough Collaboration Catalyst© Process moves your team through understanding and into practical application. It first starts with you and your understanding of how digital tools work. Next we focus on your team with a hands-on curriculum, case studies, and other targeted learning materials that drive digital know-how. Once you and your team has a shared understanding of the different digital tools available and how they can be used to drive business, then you are ready for the second part: Ideation. Participants use their new knowledge to design how social tools can be applied right away to their everyday work and your teams macro processes. Everyone walks away a new mindset about the way work gets done.
For more, complete the form on the right. You'll get a copy of our digital file, "Collaboration Catalyst Introduction" - a primer filled with tips, case studies and a frame work for thinking about your business in a new way. You'll also be contacted by a Collaboration Expert (not a salesperson) to schedule an initial meeting. At this meeting, we'll conduct an evaluation of your current work practices, map your readiness, and measure your appetite to drive your team's performance with digital workplace tools.