It appears that digital transformation, the application of technology to improve performance or reach enterprises and their customers, is going better within the larger business-to-business (B2B) sector than the smaller business-to-consumer (B2C) world.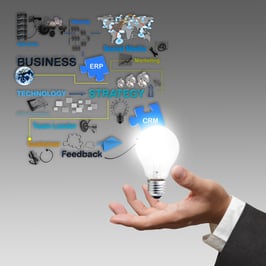 But it's only a matter of time before smaller enterprises catch up. It's a movement, tsunami of sorts, that can't be stopped. The world of interconnected technology between companies and their customers is a fact of doing business. The only thing that is not known is how many new processes and applications are to come.
The four areas of technology including big data, cloud, mobile and social technologies are having the biggest impact with transformation at its core. In a report from the Harvard Business Review (HBR), experts believe that early adopters transformed their organizations to adapt to the changing relationship with customers in mind. An example of an early adopter is Berkshire Hathaway's AirCare Travel Insurance. One hour before your flight you can purchase the insurance for $25. It covers delays, will rebook a flight for you, find your lost luggage and access to private lounges, all at the touch of an app. Transformations and connecting with customers is growing rapidly at a majority of public and private sector organizations.
Findings in a recent survey of 537 HBR readers at large and medium-sized private and public sector companies showed that 45 percent of those leading the changes are executives or senior managers.
Those managers have their eyes on the customer base. They are not just making changes to boost efficiency or cut costs. The study clearly revealed that these firms are instituting the mega trends to design new revenue streams, new business models and develop other material changes that increase not just the bottom line but the top line as well.
HBR found that digital transformation is having the biggest effect in five of the six top-line or customer-facing areas of industry. They see that reaching out from the corporate and manufacturing departments to the end-user--the customer on the street -- is paramount to staying competitive. The areas that are making the most change include:
Improving customer service (53 percent)
Increasing productivity (52 percent)
Developing new services (50 percent)
Business models (42 percent)
Product development (41 percent)
Increasing revenues (40 percent)
Intersection Between B2B and B2C
Gil Press, in his article in Forbes Magazine, says digital transformation is an obstacle and an opportunity. "Technology has blurred rigid boundaries with the media, communications industries and content."
The digital business transformation is not pre-defined with specific industry-based rules or limitations. Although social media within businesses continues to evolve, it is still largely challenged in returning measurable business results.
Therefore, strategies with a wide digital expertise map is needed to coordinate the technology and business departments and teams across the enterprise.
Customers see brands, they don't see departments. Organizations need to be sure their digital strategy serves to advance the entire customer journey and aid in delivering real results against company-wide business goals. That's the bottom-line of digital transformation.
What about the pharma industry?
Digital Transformation is the new frontier for the pharmaceutical industry. Specifically, pharma companies are investing in digital health solutions. They are creating digital services that are transforming the patient/pharma relationship and research/development. There are some emerging pharma services that fuel the digital transformation. As technology evolves and positive impact is realized, more pharma organizations will continue to invest in the digital shift. We will see even more innovations to help improve the care for the patient.
Digital transformation means change. Consumers and Business' lead a connected life and rely on technology for consumption, commerce, and communication.